Mink Farm Tavern in Cambridge lives again From the Cambridge News – August 5, 2010
Cambridge native Brad Bakken wasn't expecting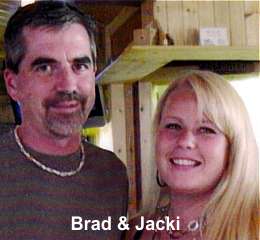 to find himself behind a bar serving drinks again, but in October of 2009 that's exactly what happened.
Most recently known as Full Moon Bar, the new business is located at W9624 Highway 12, just outside of Cambridge and across from the golf course.
The tavern has reopened under the establishment's original name, Mink Farm Tavern. Bakken, owner of the tavern property and the previous proprietor of Fairway Crossing, decided to go "old school" in honor of the tavern's history and reclaim the original name established by its first manager, Harold Christensen.
In 1936 Harold Christensen moved from Fort Atkinson with his wife and family to open the tavern on the mink farm property owned and operated by his brothers Elmer and Jennings. Harold called it the Mink Farm Tavern and added Texaco gas pumps to the business. After his wife died in 1948, Christensen built attached living quarters and resided on the property.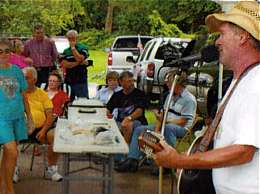 His son Butch took over the management of the tavern in the early 1950s. After 40 years of family business, Butch sold the tavern in the late 1970s to Mike Porter. The tavern was then later purchased from Porter by Gail and Steve Parry who later removed the gas pumps.
"I purchased the tavern in 1996 from Gail and Steve with my partner Denise Mehltretter," said Bakken. "We then changed the tavern's name to Fairway Crossing."
Bakken completed the environmental cleanup of the property from the petrol pump removal and began renovations.
A kitchen was added five years after opening as Fairway Crossing and food was offered at the tavern. Two years later Bakken bought out his partner and continued to run the business.
In 2006 Bakken leased the business to the Johnsons. The new operators changed the name to Full Moon Bar, working hard to promote their menu offerings, building a reputation for having food as well as just being a drinking establishment.
When the lease was up, the Johnsons declined to renew, giving Bakken 60 days to decide what he would do with the business and property. Bakken discussed it with his fiancee Jacki Mendenhall and they decided the best chance of financial success would be to take over the management and run the tavern themselves.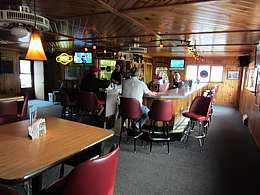 Mendenhall, a Seattle native, moved to Fort Artkinson in 2004. The couple met two years ago at Golden Living Center in Fort Atkinson where they both worked, and have planned an Aug. 28 wedding in Las Vegas.
Mendenhall worked as a CNA at the time and was studying to become an RN. She put her studies on hold to help her fiance get the bar up and running while he continued to work for six months until they stabilized the business.
"That's what you do/' said Mendenhall with a smile. "When you love each other you do everything you can to make things work."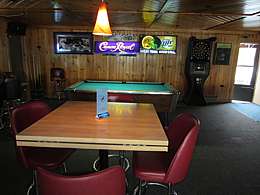 She plans to resume her nursing program this fall.
So, after several years working as an account manager for a community contract cleaning company in Fort Atkinson, Bakken was oul ol the office and back in the food and beverage service industry, assisted by his fiancee.
Bakken and Mendenhall function well as a team, one in the kitchen and the other behind the bar, switching when needed. Mendenhall and Bakken live on site and overlap shifts, sometimes closing together. They manage to have weekends off, thanks to a great staff, and they get time together when they are not working.
"The staff is good," said Bakken. "Some of them are from Full Moon. I think it's even better than from before."
More people are now aware that the Mink Farm is a place they can come for something to eat.
The menu offered at the Mink Farm Tavern is similar to its original when it had been Fairway Crossing but Bakken feels that the Johnsons did a lot to promote the food and tweak the menu, so he hasn't changed the menu.
"If it isn't broke, don't fix it," he said.
The kitchen opens for lunch at 11 a.m. and stays open at least until 9 p.m.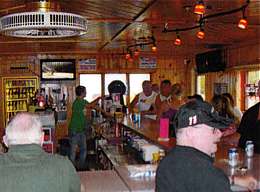 "II it's not loo busy and the bartender has time, it stays open later," Bakken said.
The menu has an array ol appetizers including onion rings, deep fried green beans, mini tacos and fried white cheese curds to name a few. Dinner baskets such as clams, shrimp, smelt and a combo including jalapeno poppers and mushrooms are also available. Burgers and specialty sandwiches such as the Farm Burger with egg, a Philly cheese steak and even a chicken wrap are on the menu every day. Emil's pizzas are offered as well. The basic menu ranges from $2 for Cajun fries lo $7.50 for the smelt basket.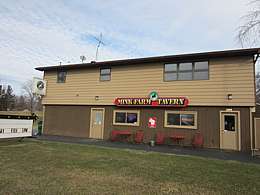 Menu specials are offered throughoul the week and start at 5 p.m. Tuesday is Taco Night which includes three tacos and a tapper for $3. Wednesday is all-you-can-eat wings and fries followed by karaoke starting around 8 p.m. Thursday the tavern serves a 10-ounce prime rib dinner for $12, and offers a fish fry on Fridays.
Bakken offers six beers on tap including popular microbrews. Everything on the menu is available for takeout. "Except for the all-you-can eat wings on Wednesday," said Bakken. The tavern sports a pool table, darts, three flat screen televisions and a few games. There is also an outdoor area where people can sit and eat or drink.
Tavern hours are 10 a.m. to bar close seven days a week.
Those wanting more information can call the Mink Farm at 423-3030.